Targeted process optimizing
Profile+ supports you in analyzing and optimizing complex logistics processes over large areas and time windows.
Analyze logistics processes the practical way
Increasing logistics halls and increasingly complex processes create new challenges. Overseeing processes over large logistics areas and time windows in order to optimize them in a targeted manner has become almost impossible for those responsible today.
Profile+ is a powerful analysis software for targeted video-based material flow optimization that creates transparency.
Shorten and optimize your processes in the hall with Profile+.
Convincing efficiency
reduced operating costs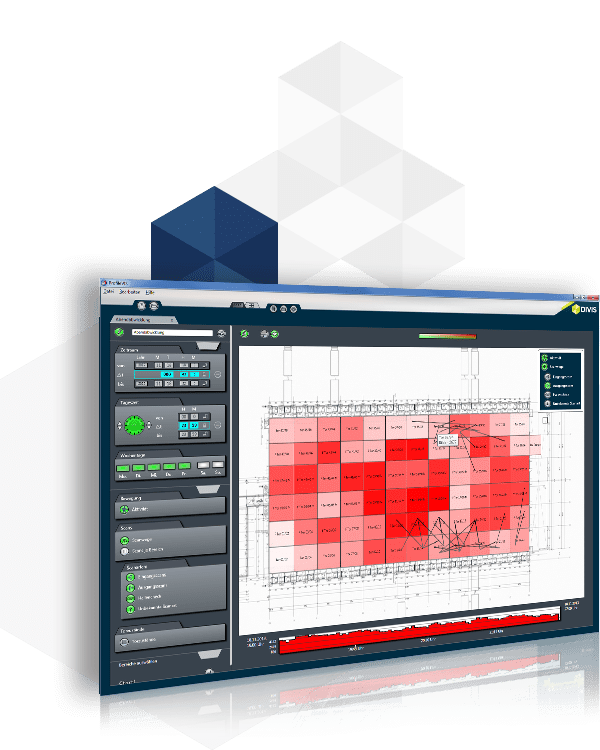 Added value
for your video system
The added benefit of process optimization
by Profile+ also shortens the amortization
of your entire video system.
Making new potential visible,
revealing problems in time
Profile+ supports you in analyzing and optimizing complex logistics processes over large areas and time windows.
HOW IT WORKS
Video-based material flow optimization: Profile+ does not analyze theoretical values, but analyzes your real logistics processes based on parameters you have defined yourself. This will give you a real picture of the situation in your hall and can reveal potential for optimization.
Process visualization for logistics: Whether activity profile, scan profile or gate status analysis: The intuitive Profile+ user interface allows fast and targeted specification of your individual analysis parameters and provides you with comprehensive and informative answers (events divided into hourly or daily time windows or over a longer period of time).
The analysis with Profile+ among other things answers the following central questions
That's how targeted video-based material flow optimization works: Profile+ analyzes your real logistics processes and not theoretical values.
Profile+ is particularly user-friendly thanks to the easy-to-understand, visual presentation of the collected information.
In this way complex contexts can be communicated and discussed in the team. The optimal basis for making the right decisions.
You may also be interested in these products

Find palletized shipments quickly with CargoVIS
With our video management software for cargo handling, CargoVIS, we offer you a comprehensive and easy-to-use system solution for the image-controlled search and tracking of palletized goods.

ParcelVIS for CEP providers and HUBs
Save time and money and let ParcelVIS work effectively for you with image-based consignment search in the transshipment warehouse: Entering the parcel label number is your key to all information on the whereabouts and status of a consignment during all scanned events. 

Reliable damage documentation with DamageVIS
Damage documentation via software in goods handling: With DamageVIS, your employees handle all damage quickly and easily in a few automated steps using a predefined workflow. The clear documentation in DamageVIS provides you with the solid proof needed to clarify claims of customers and partners.

StoreVIS for warehouse logistics
With StoreVIS, you no longer have to rely on your gut feeling, but can uncover existing optimization potential by means of real key figures. The intelligent StoreVIS solution supports you in video surveillance in goods management. Your return and picking processes are completely covered and cost traps easier to detect.