CrefoZert: Creditreform confirms exceptionally good credit rating for DIVIS
Bordesholm, 20 April 2022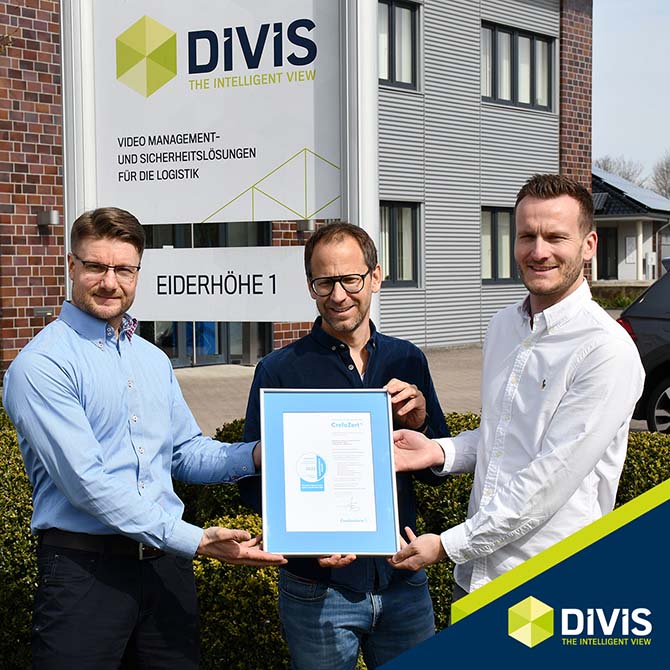 Lars Böhme (Creditreform, left) presents the CrefoCert to Sven Rautenberg (Commercial Director, centre)
and Hendrik Reger (Managing Director, right) and Hendrik Reger (Managing Director, right) the CrefoZert for DIVIS. 
Creditreform is a credit agency that independently tests companies for creditworthiness and security. DIVIS has undergone this test and has been awarded the Creditreform creditworthiness certificate CrefoZert.

CrefoZert is a certificate developed by the renowned credit agency Creditreform with strict criteria and confirms excellent creditworthiness, impeccable business conduct and a positive outlook for the future.
Only 2% of German companies can call this certificate their own. We are proud to be part of this exclusive circle.
Reliability forms a building block of our five corporate values. For this reason, transparency in dealing with the economic situation is important to us; it builds trust and is the basis for successful business relationships in the long term.
A meaningful seal of creditworthiness gives you security: certificates are often only based on information provided by the company itself, whereas the CrefoZert is only issued after extensive examination by experts and based on facts and real figures.
We stand by our customers, suppliers and employees as a reliable partner with an exceptionally strong performance. Creditreform rates our probability of non-fulfilment as extremely low. This gives you the certainty that Deutsche Industrie Video System GmbH will continue to reliably meet payments and deliveries in the future.