Our vision
Support logistics companies
as a preferred partner
worldwide to achieve a
perfect logistics service.
Optimised service quality and faster processes in warehouses and depots thanks to transparent flow of goods
Perfect logistics - today above all that means cost efficiency, flexibility and reliability. That is why many logistics companies rely on the most modern technologies available along the supply chain in order to secure their front positions in the transport market. In the area of intralogistics in particular, there is often still untapped potential. The seamless shipment tracking in the transshipment warehouse and parcel depot is one of the most important building blocks for strong customer loyalty and strategies to win new customers.
DIVIS solutions support logistics companies around the world in achieving their perfect logistics service. Based on our decades of specialisation in the field of logistics and our extensive experience with the pain points and wishes of our customers, our products and concepts have matured into the perfect answer to today's high demands.
The functionality of our solutions can be flexibly tailored to a wide variety of applications. In this way, you always receive a solution that precisely fits your individual situation, which relieves your logistics in many areas and is already equipped for the requirements of tomorrow.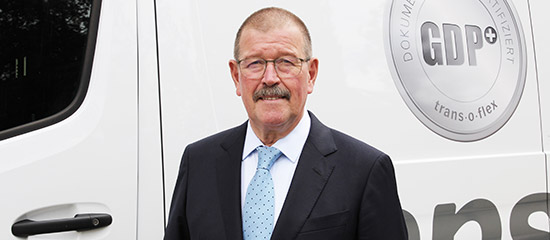 INTERVIEW
The benefits of a DIVIS solution from the perspective of a CEP CEO
"The lowest claims and loss rates have been a unique selling point of trans-o-flex for decades.
The DIVIS video system supports us in this.
We will be able to guarantee the highest possible standards for a secure logistics infrastructure and a secure supply chain in the future too."
Numerous advantages for service quality and productivity of your company
DIVIS video management solutions for shipment tracking significantly increase customer excellence and service quality through the seamless recording of the goods entrusted to you in your company.
The continuous flow of data provides logisticians with all the information that is essential for clear information to customers, branches and partners, as well as fast delivery. In addition, our software also provides answers to cost-relevant questions, such as the cause or time of damage or the question of liability in the event of a loss of a shipment.
The seamless tracking gives you comprehensive transparency, your processes become clearer and traceable at all times. This improves communication and ensures more security, reduces errors, incorrect planning and wastage and thus ensures cost savings and increased productivity.
Our solutions support you by increasing the quality of your own logistical services to position yourself much more strongly in the overall market, to strategically win important new customers and to position yourself in a future-proof manner.
What we bring to the table
Create advantages with DIVIS
for all departments of your company
Significant increase in customer excellence
Sustainable increase in quality in the corporate group
Improvement of the company's key figures
Improvement of product quality
Significantly stronger positioning in the overall market and secured competitiveness
Strategic acquisition of new customers
Direct entry into the package research by entering scan data - no package is lost
Fast package search through intelligent movement analysis
Accelerated processes during export of images and videos (blackened/ pixelated)
Easy billing by creating a company letter directly from the software
Very easy and intuitive operation of the software
Resolving the pain points during research
Easy transmission of scan data
The interface is GDPR-compliant - there is no sniffing of data
Ensuring that the camera network is operated independently from the operational customer network
All interfaces are coordinated and prepared for upscaling into the corporate group
Of course, DIVIS and the DIVIS solutions are GDPR compliant
The software solutions include a complete user rights management
Writing of log files ensures that the software is only used for internal purposes
DIVIS has a high level of expertise in the cooperation with work councils (support in creating a General works agreement)
Delivery of a stable video management solution - high detection rate during research
Flexible coverage of the locations possible depending on specifications
Compliance with high national and international safety standards (e.g. TAPA / AEO / SAFE)
Lowered loss rate
Discovery of inventory damage indoors and outdoors
Organized crime uncovered very quickly
Fixed DIVIS contacts for the entire project cycle, responding very flexibly to individual needs
Competent contacts in all departments
Project implementation is defined jointly
Excellent project management based on years of experience
Smooth implementation of solutions during running operations

Find palletised shipments quickly with CargoVIS
With our video management software for cargo handling, CargoVIS, we offer you a comprehensive and easy-to-use system solution for the image-controlled search and tracking of palletised goods.

ParcelVIS for cross docking & CEP providers
Save time and money and let ParcelVIS work effectively for you with image-based consignment search in the transshipment warehouse: Entering the parcel label number is your key to all information on the whereabouts and status of a consignment during all scanned events.