How to create and manage advanced individual live views in CargoVIS (for video research in logistics)
Bordesholm, March 3, 2019
In the last tip of the month, you learned how to create and manage individual 1-, 4-, 9- or 16-fold views in CargoVIS.
If 16 images are not enough, our software for video research in logistics also offers the option of creating advanced individual views with up to 25 images using the Views Designer.
Click on the button to open the Views Designer. In the upper area all already created views are displayed. Here they can also be selected and edited. If you would like to delete a view that is no longer needed, select the relevant view here and click on the "Delete views" button.

Click on "Add View" to create a new empty view. First, name the new view. Then you can configure the view to your liking. There are up to five columns possible and each column can be assigned up to five rows. You can also use a width factor to assign a different width to the columns. The rows are always adjusted evenly. Finally, save your new view under "Save Views" and exit the Views Designer.
All advanced individual views can be selected and configured via the drop-down menu. The use and management of the extended individual views are the same as the 1-, 4-, 9- and 16-fold views. Even switching between all views is easily possible.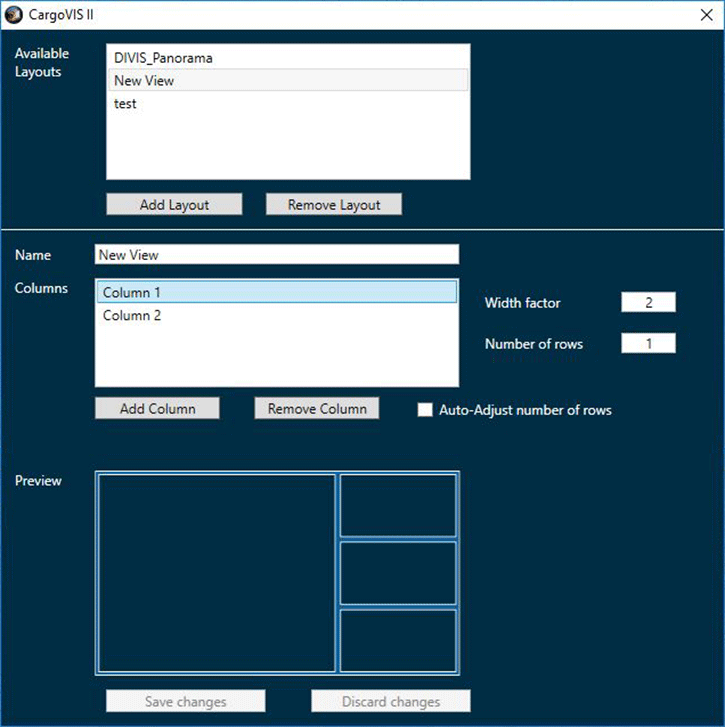 Fig.: Dialog box for adding or deleting extended live views

Find palletized shipments quickly with CargoVIS
With our video management software for cargo handling, CargoVIS, we offer you a comprehensive and easy-to-use system solution for the image-controlled search and tracking of palletized goods.