Reference images and reference mode in ParcelVIS
Bordesholm, April 4, 2019
It may be difficult to unambiguously identify the package you're looking for among hundreds of similar-looking shipments and keep track of it during shipment tracking.
The DIVIS software also offers a solution to this problem – reference images. Today, we'll show you how to create reference images in ParcelVIS so that you can visually see a permanently displayed example of the shipment you're looking for throughout the goods tracking process. During the research process, you can also exchange these reference images according to your needs.
First, switch to reference mode to create one or more views of the shipment that remain displayed unaltered throughout the workflow. The reference mode is available in the small and medium picture display (not available in the large picture display). In order to switch to the reference mode, click on the left icon in the view switch of the band search.

Fig: Switch to reference mode
The video work area switches to the reference picture mode.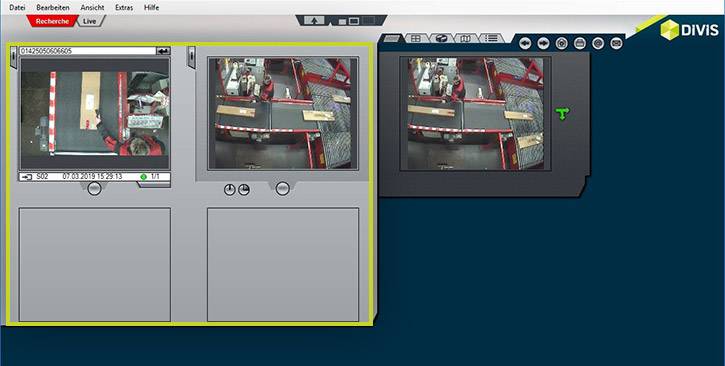 Fig: Reference picture display
In reference picture mode, two additional video display windows are now available, which you can drag and drop with any video images. These images are retained even when switching to another scan event.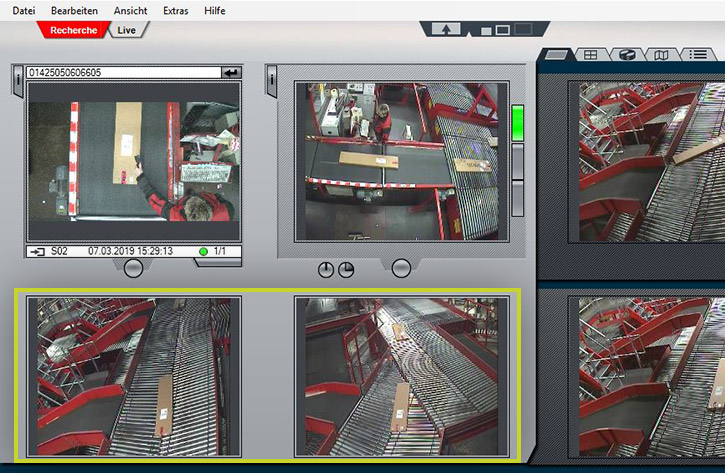 Fig: Reference mode with reference images created
The scan image and the scan overview image can also be saved as reference images. Click with the right mouse button on the corresponding image.
In the context menu, select whether the image should be used as reference image 1 or 2.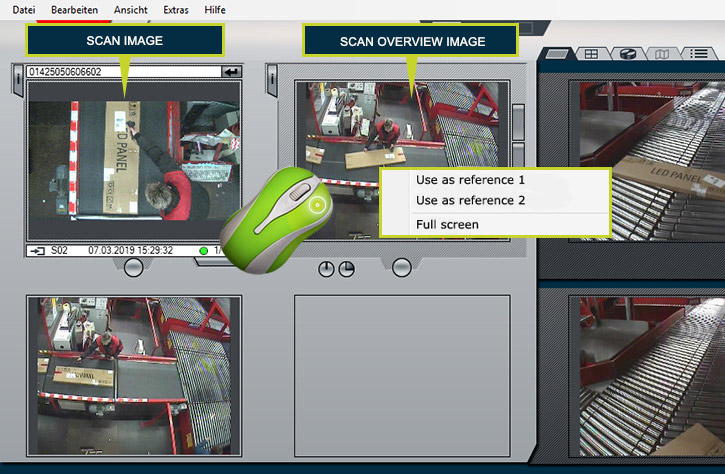 Fig: Right-click to define the scan overview image as a reference image
Full screen display with reference images on the left
In special cases, it may be necessary to evaluate the image in the video workspace in more detail. For this purpose, further display options are available. Double-click the right image in the video workspace to toggle to a larger image view.
To the left of the full-screen image, the scan image and below two freely assignable reference images are displayed, which can be arbitrarily assigned or replaced by drag & drop.
To display the video image temporarily on the large screen, hold down the left mouse button when clicking on one of the small reference images on the left.

Fig .: Full screen display with reference pictures
To exit the large image display in reference mode, double-click in the video image.

ParcelVIS for CEP providers and HUBs
Save time and money and let ParcelVIS work effectively for you with image-based consignment search in the transshipment warehouse: Entering the parcel label number is your key to all information on the whereabouts and status of a consignment during all scanned events.