Bye bye, password! Accelerated access and other benefits of Active Directory connectivity in CargoVIS and ParcelVIS

Bordesholm, November 1, 2019
Benefit from the advantages of connecting your user administration to the registration in CargoVIS and ParcelVIS! From version 1.5. and up it is possible to connect the DIVIS user database of the CargoVIS and ParcelVIS software to your Active Directory with regard to users, policies and camera access lists. This allows quick access while fully protected against unauthorized access through detailed rights management.
Your employees save time and your administrative workload is reduced.
When logging in, the user name is automatically entered. The password does not have to be entered manually anymore. The user can select one of the available configurations and start the software. If only one configuration is available, the software starts directly without displaying the login dialogue.
The advantages of Active Directory linking in overview
Comprehensive group permissions reduce administrative effort

Less configuration effort through dynamic control of camera access lists

Quick overview of the rights granted for the Active Directory users
As soon as you are logged in to the Active Directory, various configuration options are available in the user management of your DIVIS software. You can link users and policies across applications and dynamically control camera access lists.
The following parameters can be connected between your Active Directory and the DIVIS software
Link users to simplify login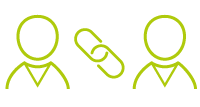 DIVIS users can be linked to users from the Active Directory. For all users who are already authenticated in Active Directory, the CargoVIS/ ParcelVIS software eliminates the need to log in each time with a password.
Link policies for less administrative effort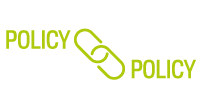 DIVIS user database policies can be linked to Active Directory groups. All members of each Active Directory group can access the DIVIS software using the associated policy.
This reduces your administrative effort: For members of these groups, no users have to be created in the DIVIS user database. As a result a lot less (or even no) users have to be managed.
Link camera access lists for less configuration effort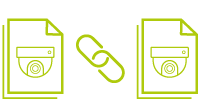 The camera access lists that a user uses to access the DIVIS software can be dynamically controlled through Active Directory groups. This gives users of the same policy access to different camera lists, which reduces the number of necessary policies.
Quick overview of rights for all Active Directory users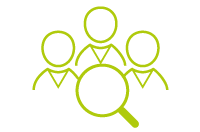 Linking DIVIS policies to Active Directory groups gives large groups of users access to the DIVIS software. But there is always the possibility to see a well-structured overview of the effective access rights of Active Directory users and edit them.
In practice: Logging into the DIVIS software
Logging into the DIVIS software via Active Directory can be done with a linked user, a linked policy or concurrently with linked user and linked policy.
The Active Directory link is available at no additional cost to DIVIS customers starting with version 1.5. If you are currently working with an older version, you can catch up on the update at any time. Do you have questions about the update or the Active Directory link?
Then contact us.
Our service team will be happy to assist you.

Find palletized shipments quickly with CargoVIS
With our video management software for cargo handling, CargoVIS, we offer you a comprehensive and easy-to-use system solution for the image-controlled search and tracking of palletized goods.

ParcelVIS for CEP providers and HUBs
Save time and money and let ParcelVIS work effectively for you with image-based consignment search in the transshipment warehouse: Entering the parcel label number is your key to all information on the whereabouts and status of a consignment during all scanned events.