New Features in CargoVIS and ParcelVIS Version 1.5.

Currently there is an update available for CargoVIS, our video management software for palletized shipments, and ParcelVIS, our software for the image-based research of packages in the depot. Today we introduce you to the new features.
NEW: Active Directory link for ParcelVIS and CargoVIS
Directory service / central administration within the network

Your DIVIS user database can now be connected to your Active Directory. This simplifies user administration and registration in CargoVIS and ParcelVIS.
Simplified login process

DIVIS users can be linked to users from the Active Directory, which means that a CargoVIS / ParcelVIS user no longer needs to log in with a password if he is already authenticated as an Active Directory user.

General group authorizations

The DIVIS user database policies can be linked to Active Directory groups. By this, all members of an Active Directory group with the associated policy can access the DIVIS software. No additional users have to be created in the DIVIS user database for the members.
In addition, the camera access lists that a user uses to access the DIVIS software can be controlled via Active Directory groups.
Other new features in CargoVIS
Optimizations in Location+
Plus+ function for locating scanners, persons or loading tackle in the hall
From version 1.5. in Location+, locating statistics can be displayed both in the stand-alone monitoring solution for the positioning system, TagWatch, and directly in CargoVIS. The current status is displayed and can be checked.
Under the menu item "Extras" you will find the location statistics. For each LocIdent (= specific identifier of a scanner) the system displays how many scans were made in total and how many of these scans had a locating result or remained without a locating result. In the listed statistics, a search by period can be started. By default, the start time is 0:00 of the current day and the end time is the current time. The location statistics can be exported as a CSV file or opened as an unformatted table in Excel.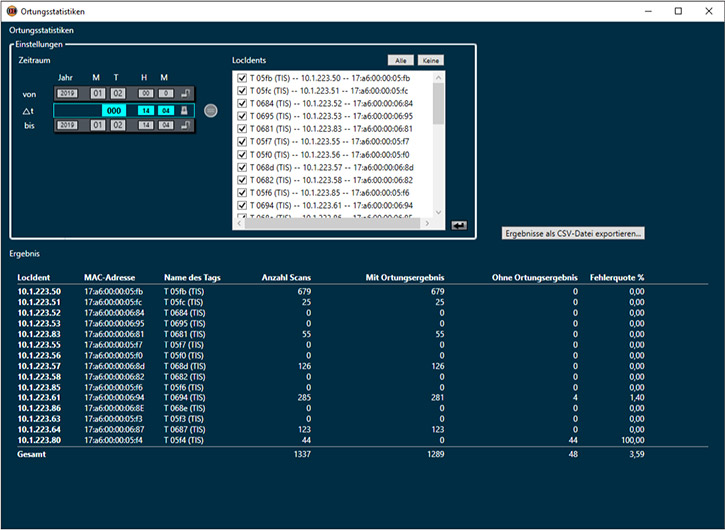 Screenshot: Tracking statistics
Optimizations in License Plate+
Plus+ function for automatic license plate recognition
License Plate+ is a new CargoVIS software module that was released recently. Saved identifiers can accessed via the License Plate+ icon 

in the header of the CargoVIS search. After clicking on the License Plate+ icon, the "license plate list" opens in a window, which can be searched for license plates.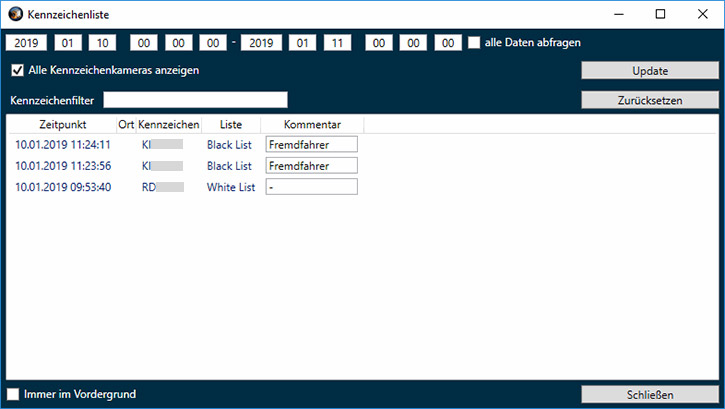 Screenshot: License plate list
In the search, a period can be selected to see how many vehicles have been detected and have driven through in that time period.
The vehicles can be searched by license plate filter also by city (e.g. KI for Kiel, RD for Rendsburg etc.).
If several license-plate cameras are in use, a specific camera can also be selected and the search can be limited to this, for example, to determine how many vehicles have accessed the area via a specific driveway.
By double-clicking on the selected indicator in the list, corresponding image data are also displayed.
The new features are available for users of our software solutions with the latest update to version 1.5. as of now.
Do you have questions? Contact us!