User feedback: CargoVIS in practice at Krüger in Göttingen
Bordesholm, August 2, 2018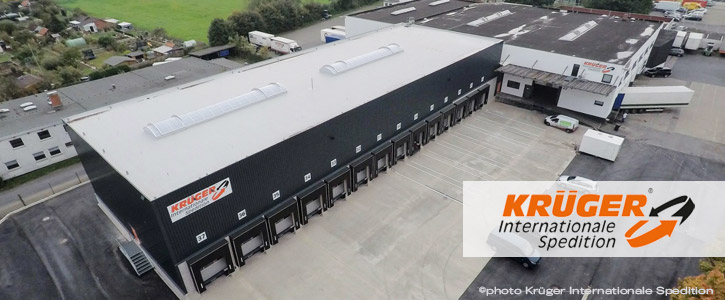 Krüger Internationale Spedition GmbH is an expanding company and partner of the cooperation ONLINE Systemlogistik and 24Plus.
The company offers transport services in regional distribution as well as worldwide in the areas of general cargo, part and full loads, including air and sea freight. The video management software from DIVIS for cargo handling and warehousing, CargoVIS, has been in use at the freight forwarder for several months now.
Krüger recently expanded its handling facility on the Göttingen premises and currently manages more than 35,000 m² of storage and logistics space in Göttingen and Apolda (Thuringia).
During the planning phase of the new building, the company gathered information about the latest video surveillance products at transport logistic in 2017 and met DIVIS on the fair.
The transport provider was very interested in detailed information and advice about the DIVIS technologies. In particular, Krüger was interested in the combination of video and scan information for seamless shipment tracking DIVIS is offering.
No less attractive was the  Plus+ feature Link+, which establishes a direct link between the company's forwarding software and the DIVIS solution, thus enabling a direct start of the consignment research without detours.
The presentation convinced
"We decided to work with DIVIS because the products fit our needs perfectly."
Katharina Meintrup
Forwarding Manager
Krüger Internationale Spedition
With the start of the cooperation, Krüger became the 28th DIVIS customer from the online partner network.
"We decided to work with DIVIS because the products fit our needs perfectly. It was particularly important to us to be able to find missing shipments faster. A complete overview of our company premises is indispensable due to the strong growth of our order volumes. In addition, we want to prevent theft by deterrence as good as possible," explains Katharina Meintrup, Forwarding Manager at Krüger Internationale Spedition.
A total of four halls had to be equipped with the CargoVIS system solution. Three of the halls were older buildings that had to be converted while still in operation. A fourth hall was added as a new building. As part of the project, 17 outdoor cameras and 25 indoor cameras (2MP and 4K technology) were installed.
Especially the three existing halls provided a challenge to DIVIS to prove expertise and know-how, because the narrow architecture and obscured areas of the buildings required a sophisticated concept to be able to capture all relevant areas by video camera. Low ceiling constructions, ramps and passageways had to be taken into account and needed to be made visible in the cameras.
At the end of April 2018, the project went live.
A conclusion
Managing Director Andreas Krüger sums up: "The project was completed quickly and on schedule, even though our halls were very well filled due to the high shipment volumes. Our overall impression of the DIVIS solution after the short period of use: we are satisfied."