Initiate live support directly from the CargoVIS & ParcelVIS software

NOTE
This function can only be used in full in the latest version of our software 1.6.3.0. Your version of the DIVIS software may need to be updated first. The previous version of TeamViewer is no longer supported in the older versions of our software.

Fig.: Initiate live support with TeamViewer via the help menu

The TeamViewer session is a way to help you quickly and easily. You only need to briefly describe your problem and, if necessary, you can show us live what you are having trouble with.
During a session, our support has full access to your computer and, if it makes sense, also temporarily takes over control to carry out tests, change settings directly in your version of the DIVIS software or show you other steps in the software live. You can see what is happening on your computer at any time.
Here is how support via TeamViewer works
If you encounter a problem with the operation of the DIVIS software, please call our support first. The employee on the phone will ask you to click on "Live Support" in the software menu under the "Help" tab.
A TeamViewer session is then prepared on your computer and a window appears in which your ID for the connection to TeamViewer is displayed.
The support employee on the phone needs this ID from you in order to establish a connection to your computer with TeamViewer.
All further steps work automatically. You do not need any further data or passwords.
Once the connection is established, the support representatives see the same on their computer as you see on your computer screen.
Access and control are of course only possible for the duration of the TeamViewer session. At the end of the session, DIVIS has no further access to your computer. If help is needed again, you must first initiate a new TeamViewer session by telephone.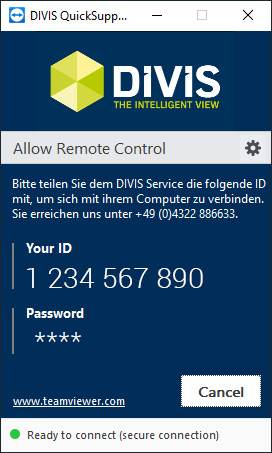 Fig.: TeamViewer window with your ID

NOTE
In some companies, external access is prevented by default by system administrators. If the connection to TeamViewer fails, this possibility must also be checked and the further proceedings, if necessary, coordinated with your system administrator.
*Our live support is free of charge for DIVIS customers with a service contract.
Live support and any other support is also available for customers without a service contract, in that case for a fee.