Thermal cameras with alarm function – optimal protection for your premises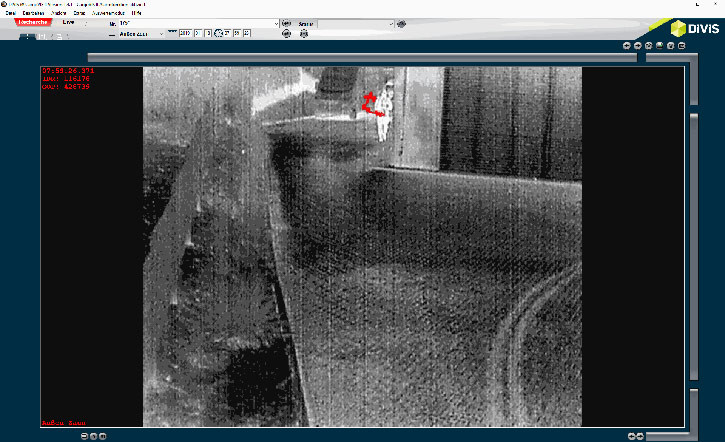 Our popular Plus+ feature Motion Alarm+ for CargoVIS has recently been extended to include thermal imaging technology. This type of video surveillance is more independent of environmental conditions and much more accurate than other commercial solutions.
Intruding persons, vehicles and even minimal temperature differences can be reliably detected and visualized by means of thermal imaging. In this way, thermal imaging cameras simplify the video surveillance of large operating areas and the securing of fence systems and critical infrastructures. The module will be presented at the LogiMAT in February.
Advantages of video surveillance via thermal imaging camera
See in complete darkness, as well as in fog or smoke

Easy detection and visualization of heat traces and thermal energy (people, animals, vehicles)

Large detection area (up to 900 m)
The property protection of logistics facilities is increasingly presenting forwarding companies with challenges. Powerful thermal imagers are the perfect complement in some areas to ensure complete coverage of terrain and monitoring time.
Unlike traditional surveillance cameras, thermal imaging technology does not require ambient light. A thermal imaging camera is able to clearly visualize people and vehicles that the human eye would otherwise be unable to perceive under certain conditions, both during the day and in complete darkness and under difficult weather conditions, and reliably detect suspicious activity. The integrated sensor triggers a predefined alarm, so that you can react quickly to unauthorized intrusion. The monitoring by means of thermal imaging camera is thus possible in operation around the clock independent of weather and seasons. A plus: This reliable detection also works over long distances and is therefore barely dispensable today, especially for large areas.
Excellent protection through infrared technology – more security for your company!
The basis of thermal imaging technology, which is also used in our Plus+ Motion Alarm+ function for CargoVIS, is the reception of infrared radiation. On the basis of the wavelength of the radiation different temperatures can be detected and displayed. The contours of warmer objects such as people or vehicles, which are located within the recording range, are recorded according to their heat trace and displayed clearly visible. Adverse conditions such as smoke, fog, dust or haze do not limit the function of thermal imaging cameras. Thus, they are also well suited for use in critical environments with poor visibility through regular smoke or dust.
Conventional alarm and security systems sometimes show an increased rate of false alarms when certain day-to-day situations can not be properly aligned and prioritized by the automations. Possible triggers for a false alarm may be, for example, light reflections and reflections in a wet environment, rain, insects, birds or leaves.
Most triggers for false alarms can be avoided by using thermal imaging cameras!
No false alarm by reflection of light and other sources on wet floor coverings

No false alarm when reflecting light from car headlights

No false alarm due to heavy snowfall or rain

No false alarm due to melting ice during thaw

No false alarm due to insects on the camera lens

Limited risk of false alarm by birds

No false alarm on movement of leaves, swirling leaves or tall grass due to wind
Any technology that we use and recommend, we first test thoroughly. Thermal imaging cameras are no exception. Here, we first carried out tests at our site in Bordesholm and, only after the result convinced us, made the integration into our server technology. A CIF (384 × 288) resolution IP camera with integrated alarm sensor is used. The powerful alarm sensor system is based on self-learning algorithms (deep learning / video content analysis): line crossing, burglar alarm, area entry & exit.
In a pilot installation, a setup with a total of 12 cameras was tested in the next step. The result: The thermal imaging technology was clearly superior to conventional video-based alarm sensors in terms of accuracy and reliability.
Therefore, we recommend the use of Motion Alarm+ for adequate protection of large logistic installations under almost all weather and light conditions.
Motion Alarm+ for CargoVIS - video surveillance with thermal imaging
Motion Alarm+ is an additional feature for our video management software CargoVIS, which helps you protect your systems against unauthorized intrusion.
An integration of our alarm system is also possible at a later point if you are already CargoVIS user. Motion Alarm+ is operated directly in CargoVIS, is user-friendly and effective.
Alarms in Motion Alarm+ are generated by Video Content Analysis (VCA) and stored in a database. You will then have access to the alarm images and the search of the stored data directly in the CargoVIS software. It will be equipped with acoustic signaling in live and research mode. The triggered alarms are sent to an external contact (e.g. alarm system, siren, light) and the associated alarm images are sent by e-mail. Also a connection to alarm systems is possible. Alarms are activated either via the CargoVIS software, a calendar function or via an external contact.