DIVIS SOFTWARE FOR LOGISTICS
DamageVIS – clear damage documentation with minimum time effort
Bordesholm, October 4, 2021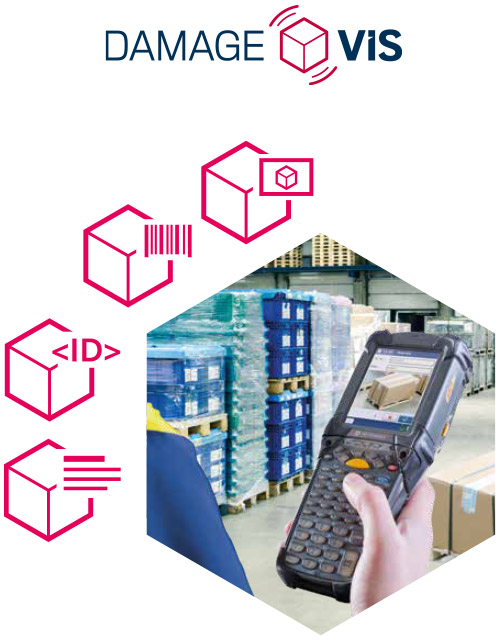 DIVIS' damage management software for logistics, DamageVIS, minimises interruptions, reduces the time spent on damage recording and links all relevant shipment data directly to the damage documentation.
Constantly growing transport volumes and fast throughput in logistics facilities come with an increased risk of damaged shipments. Regardless of whether goods are already damaged when they arrive at the logistics warehouse or whether they are damaged during the fast handling on the loading area, the damage documentation should in any case be a quick procedure and not cause long interruptions.
But even under the given time pressure, the recording must be comprehensive and provide meaningful evidence so that all the necessary information and proof is later available for further processing with insurers or customers.
In addition, quick access to all damage information, such as pictures of the package, the damage and the barcode, as well as all other relevant data, is important for processing. Insurers, transport cooperations and partners place high demands on the evidence and expect precise answers immediately, as do customers.
Conventional documentation by hand with pen, paper and a digital camera is time-consuming and prone to errors. Paper can get lost in the hustle and bustle at the loading bay and the pictures must first be transferred from the digital camera. Out of hundreds of photos, it is then still necessary to assign them correctly by hand without mistakes before the material can finally be used as evidence.
Automated workflow with DamageVIS
DIVIS has developed the DamageVIS software solution for fast digital damage documentation and collection of evidence. DamageVIS makes damage recording very easy for your employees. They just use their mobile DIVIS PDAs or your hall scanners with photo function. Processing is quick and only requires a few automated steps in an intuitive, predefined workflow. Pen, paper and digital camera are no longer necessary. Further processing and forwarding can be done comfortably on the PC.
The damage images and information are automatically linked to the scan data of the consignment by our software. This means that all important information is then available in bundled form for all further purposes. The damage information from DamageVIS is also automatically available for retrieval in the CargoVIS software.
Additional benefits for quick consignment research
The damage information from DamageVIS is also automatically available in the CargoVIS software.
The DamageVIS data package includes
High-resolution images of the consignment

Shipment data (scan data)

Damage information (date, time, user, etc.)

Detailed descriptions (comments by the damage assessor)
Digital processing with DamageVIS relieves staff and reduces interruptions for damage documentation in logistics to a minimum. At the same time, fast access to all information optimises the quality of the claims settlement and speeds up the associated communication.
Many options for software-supported damage documentation with DamageVIS
Scan data and damage images in 8-megapixel resolution, individual damage texts and employee information are captured menu-guided and automatically transferred to the secure DamageVIS server, where they are available for further processing.
The DamageVIS user interface offers flexible options for further processing of the damage documentation: forward the stored information directly, mark or black out image areas beforehand or add further descriptions.
The information can also be transferred to a professionally designed PDF document.
The uniform layout of these documents supports the qualified appearance of your claims processing and supports the acceptance of your claims.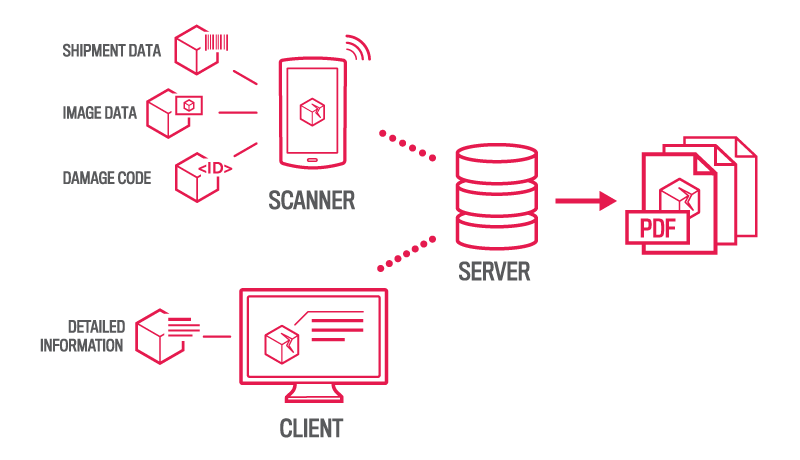 Fig.: The consignment and damage data captured with the scanner are available via the secure DIVIS server for PDF creation or for viewing and further processing in the desktop client for claims settlement.
DamageVIS can also be used to process claims in bundled form, thus further streamlining your processes. For this purpose, all claim documents of a day are automatically created in the software and provided with a defined file name.
Contents of the DamageVIS PDF communication package
Up to 5 images per damage case

If required, with marking and explanation

An informative damage text

The consignment and package number

The company logo and address
No matter on which platform you want to make the damage data available to your customers and partners, with DamageVIS the information is available in the desired format without delay.
Unfortunately, some damages are unavoidable in the hectic of daily logistics routines. In the case of unjustified claims, it is therefore particularly important that the liability situation can be clarified unambiguously.
DamageVIS supports you throughout the entire claims process, from swift and professional damage assessment in the hall to communication and settlement based on clear evidence.
DamageVIS functions at a glance
Convenient on-site damage assessment with intuitive software

Automatic data provision for damage viewing and processing on the PC

Secure service-based data storage

Easy post-processing (blackening, pixelation)

Fast batch processing, e.g. from a single day

Output as professional PDF document

Export with individual file name
The image material and information from DamageVIS are automatically available in our CargoVIS software and can be supplemented here with further evidence such as moving image material to strengthen the chain of evidence.

Reliable damage documentation with DamageVIS
Damage documentation via software in goods handling: With DamageVIS, your employees handle all damage quickly and easily in a few automated steps using a predefined workflow. The clear documentation in DamageVIS provides you with the solid proof needed to clarify claims of customers and partners.