transport logistic 2023: DIVIS trending with Dimension+

The transport logistic trade fair 2023 in Munich was a great success. Consequently, the largest international trade fair for logistics, mobility, IT and supply chain management draws an extremely positive balance, even surpasses the year 2019 before Covid. Over a period of four trade fair days, 2,300 exhibitors from 67 countries presented themselves in a total of ten halls. More than 75,000 visitors from 120 countries came to discover the latest developments around the key topics of sustainability, progress, digitalisation and process optimisation.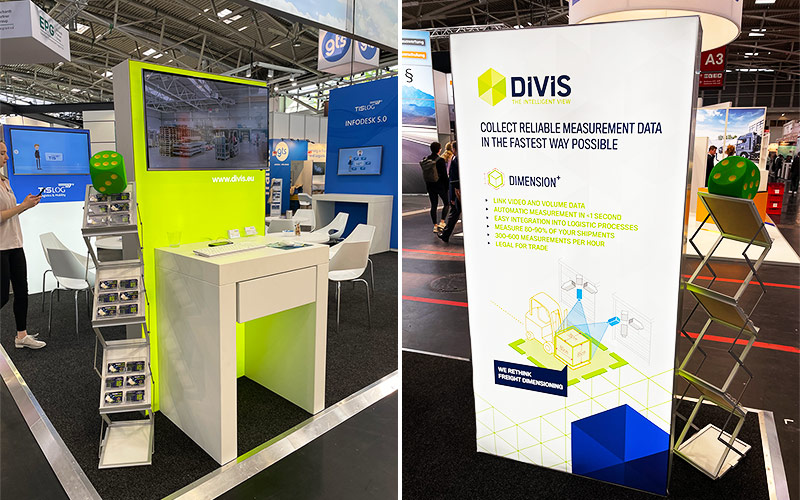 For DIVIS, the transport logistic trade fair proved to be an important platform for the exchange with customers and interested parties from the logistics industry. Our stand, a joint booth with our partner, TIS GmbH from Bocholt, was visited by a large international audience. Visitors came from all over the world, from Scandinavia to Spain and Turkey.
The great interest in our solutions showed that the logistics industry has arrived in the age of digitalisation. Both, parcel and cargo logistics have recognized the advantages and added values of intelligent video management solutions and intend to make extensive use of them in their pursuit of process optimisation.
Especially our latest solution, Dimension+, attracted a lot of interest, not only because we offer another answer to the ongoing digitalisation process with the new automatic freight dimensioning system.
With measurements in less than a second, reliable measurement data and independent positioning, it also fulfils a long-held wish in the industry for process optimisation at the cross dock. Many visitors took the opportunity to get to know the functionality of the legal for trade, camera-based measuring system in our demo application and received personal advice from our team.
Measurement in <1 second per shipment

300-600 measurements per hour

Position-independent placement
Video preview: Dimension+
Exclusive trade fair discount for Dimension+ at the DIVIS stand
During the event, we offered our customers the chance of an exclusive trade fair discount on our new automatic freight dimensioning system. Interested buyers had the opportunity to roll a dice and win trade fair discounts of up to 12%.
We would like to take the opportunity to congratulate Zoder Spedition, Rhenus Kirchheim and many other DIVIS customers on their discount win.

Fig.: Rhenus Kirchheim (left), Zoder Spedition (right)
While Dimension+ was at the center of attention, our proven video management systems, CargoVIS and ParcelVIS, as well as other add-on modules such as License Plate+ and Location+ were also met with great interest.
We would like to thank all visitors, customers and partners who made this trade fair a successful and a memorable event. Our thanks also go to our colleagues at TIS GmbH for the great cooperation.
Fig. f.l.t.r.: Markus Vinke (TIS), Hendrik Reger (DIVIS), Sven Rautenberg (DIVIS), Fabian Bielefeld (TIS)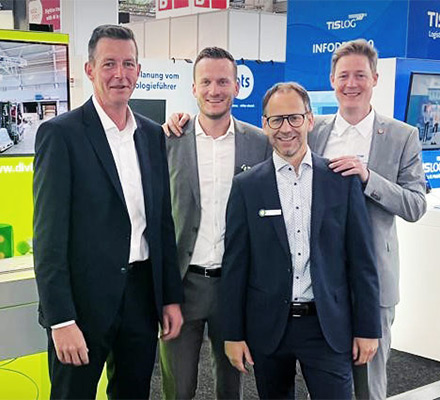 We are proud that our products have sparked a lot of interest and are making a significant contribution to increasing efficiency in the industry. Our commitment to progress and process optimisation will continue to drive us to provide our customers with innovative and future-proof solutions.
It was a pleasure to have been part of the successful transport logistic trade fair in 2023. We are already looking forward to inspiring you with our cutting-edge solutions next time!
Fig.: More impressions of the DIVIS stand at transport logistic 2023 (click on thumbnails to enlarge)