Artificial intelligence in logistics applications – future fantasy or already a reality?

Artificial intelligence, or in short AI, is considered one of the most important technologies of the future, which can be expected to bring about major changes in many sectors and occupational fields over the coming decades.
According to a company's sales forecast for AI for the years 2017-2025, KI is expected to deliver approximately $1.3 billion in revenue in Europe in 2020. A potential analysis on "Artificial Intelligence" by IT group Sopra Steria revealed that 20% of all companies in the logistics and transport industry are already using such applications. Another third plans to use AI in the coming years. At the leading trade fairs of the industry, such as the LogiMAT and the CeMAT, exhibitors are increasingly advertising AI as a motor of the future.
But what exactly is AI and is the subject really that new?
Artificial intelligence is a combination of technological elements (software coupled with appropriate hardware) that can perceive, process, and learn from information. AI is meant to replace people where a high degree of intelligence is required and at the same time the computer-aided service leads to the desired result faster and with higher quality than the execution by humans. This requires large amounts of data, high computing power and intelligent algorithms. Depending on the nature of these three presets, KI enables a wide and non-standardized range of applications, from chess computers to complex behaviors modeled after humans.
Whenever AI is mentioned a differentiated look at the respective product makes sense, because AI applications can have very different "intelligence quotients".
The technological idea behind AI has existed for a long time. Already in 1956 the topic was first mentioned. At that time, however, two of the key resources, the available data volumes and the computing power, were still scarce, which is why the development of applications has proceeded slowly.
That has changed now. Comprehensive data collection and computer capacity are no longer a problem. Thus, the topic of AI is rapidly gaining popularity today, not least because of its manifold application possibilities in a wide variety of areas, and of course also in logistics.
It seems like we are in the middle of a global AI revolution that will change entire industries.
What sounded like science fiction a few years ago is now becoming a reality: From a technical point of view, voice-controlled systems and autonomous driving are already possible and well on their way into our everyday lives.
However today, when we talk about certain algorithms as AI, it's still mostly about basic versions of artificial intelligence.
In advertising, the term AI is often used to give software applications a state-of-the-art, powerful and intelligent image. Different fancy names around the topic of AI, for example Artificial Intelligence (AI), Machine Learning or Deep Learning regularly cause uncertainty in users about what exactly this means and what practical benefits the so-called methods and applications actually have.
In fact, KI is included in just about any software in one way or another today. This is especially true for analysis software. Using huge amounts of data, the software can detect patterns and rules, substituting pure guesswork or rough estimates with accurate forecasts. AI can help to actively optimize methods and behaviors.
It's still a long way to the self-contained computer and completely autonomous robots. Many companies are hardly starting to use AI for their own purposes, believing that it hides technologies that have nothing to do with their industry or their business needs. Employment of professionals in order to technically realize the data analysis still proves to be a great practical challenge for many today.
However, the AI applications currently available on the market can already enormously simplify day-to-day logistics and intralogistics and help users not only with process optimization, but also with quality assurance and accident prevention. Today, data is abundantly available through sensors, cameras, and IT systems. AI algorithms identify repetitive patterns or abnormalities faster than any human could.
In companies, the information in the collected data becomes visible to humans in this way. In the field of logistics, valuable information about the delivery process, the daily material flow in the transshipment hall and other parts along the entire supply chain are gained. This gives employees and decision-makers greater planning security by enabling them to identify correlations and adapt processes, identify and resolve potential disruptions and problems before they even arise and could cause economic consequences. Another key aspect in companies is cost control. Other relevant factors, such as cycle time or energy consumption, can be easily automated and controlled with AI.
Profile+ Clear analysis of your logistics processes

A practical example of an AI-based analytics tool in logistics applications is our Plus+ feature Profile+, a powerful analysis software module for video-based material flow and process optimization. Profile+ offers automated data analysis, predictive maintenance and warehouse optimization. The tool reveals potential savings and problems in a timely manner. Also in combination with our software modules Gate+ for the gate status analysis and Location+ for the scanner location Profile+ is a useful addition to reveal further optimization potential of your logistic processes by new insights and information advantages.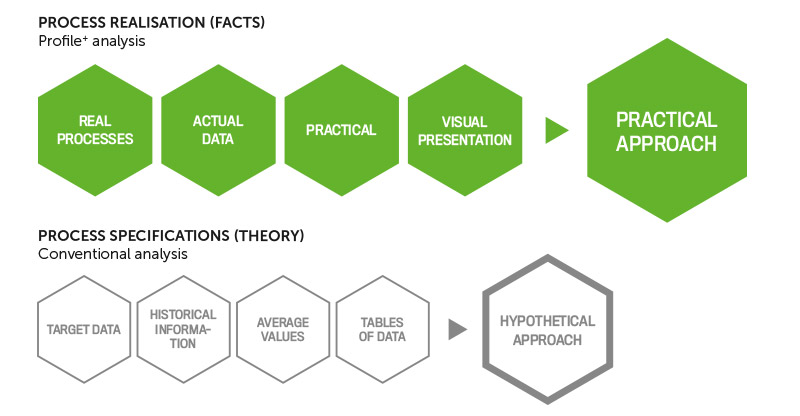 Practical analysis of logistics processes
Profile+ helps you analyze and adapt complex logistics processes across large areas and time windows. Whether activity profiles, scan profiles or gate status analysis: Profile+ does not analyze theoretical values, but real data, derived from the processes in your company, based on your own defined parameters. The results are displayed in graphics that are easy to understand. This gives you a complete overview of your logistics processes. You get a real picture of the situation in your hall and can specifically reveal optimization potential.
The analysis with Profile+, among other things, answers the following key questions:
What free capacities does the logistics location offer?

How can we better position shipments?

Which days are extremely busy?

Are our scanning processes organized efficiently?

Are scans consistent with our standards?

Is loading organized efficiently?
The more data available for evaluation and comparison, the more accurate the analysis result becomes. The data should be collected at regular intervals in order to be able to read trends and developments by comparison.
Profile+ offers you numerous options for this: Whether hourly, daily or additional, highly complex analysis over a longer period of time, your questions to Profile+ can be formulated individually.
Profile+ will quickly find the right answers for you. Your warehouse staff no longer have to rely on guesswork and are informed in advance of likely events such as high floor frequency or bottlenecks.
From inventory analysis to improved order management – artificial intelligence and its algorithms offer many benefits to businesses. Although AI is still in its beginnings, it already provides us with extremely useful applications today and is expected to evolve at high speed in the coming decades. At DIVIS we contribute to shaping this future through our products.