CargoVIS with software module Link+ now also accessible via URL

Bordesholm, 1. September 2021
For a quick entry into the shipment investigation, our software module Link+ enables the quick start of CargoVIS, for example, from your forwarding software via parameter transfer with only one click. Link+ is part of your CargoVIS basic license.
With the release notes of the CargoVIS software version 1.7.1.0 we already announced that it is now also possible to access our software directly via protocol call using a URL.
This makes working in CargoVIS even easier, because the software can now be started from (web) applications or from a browser. After installing the CargoVIS software, the protocol is automatically stored in the system and can be used without further configuration.
Here's how the URL access works
The URL for the protocol always starts with the initial part cargovis:
This is used by the system to identify the respective application to be started. The colon is followed by optional functions (automatic login, automatic connection), which can be passed on to our software for startup.
Several options of the Link+ functionality can also be passed in the URL at the same time.
Examples of the URL structure
URL with one option (autologin option)
cargovis:autologin=<Username>:<Password>
URL with two passed options (autologin and region display) 
cargovis:autologin=<Username>:<Password>/showregion="<Region Name>"
When opening in the browser, a warning message may appear first, informing about the imminent opening of CargoVIS.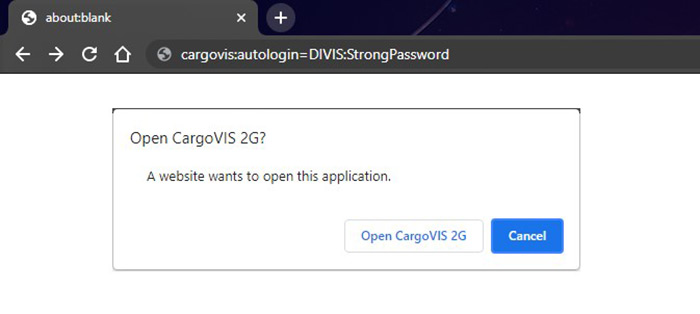 Figure: Example of URL access from the browser.
For optimal password protection, an authentication token for the automatic login functionality of Link+ can be generated in the user administration, allowing users to be logged in via a corresponding URL without entering the CargoVIS password.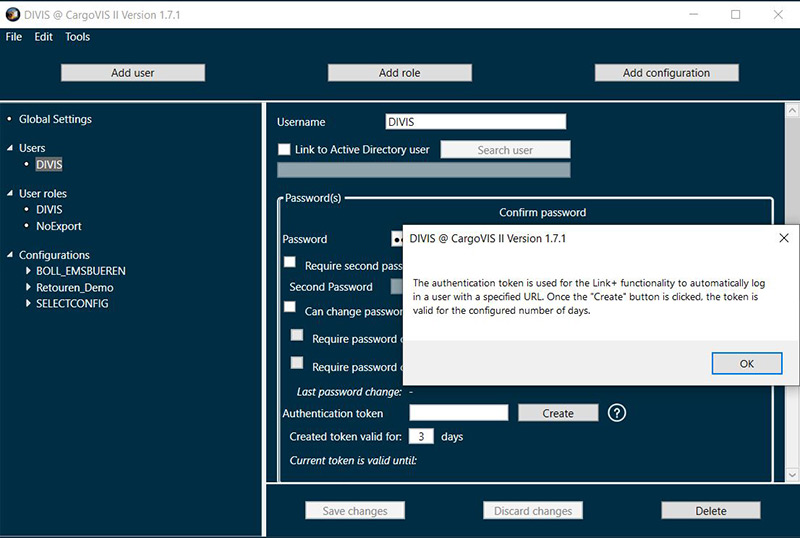 Figure: Authentication token can be generated in the user administration.