Indoor positioning with Location+ for more transparency in the hall

Technology for precise indoor positioning of scanners or means of transport provides better overview and opens up numerous possibilities to control processes in logistics. As an additional component in shipment tracking, indoor positioning tracking can, for example, speed up the search for missing packages reduce liability risks and uncover potential for cost optimization in the hall.
For our CargoVIS video management software, we have therefore developed a tool to integrate indoor positioning – the add-on module Location+.
Logistics processes are becoming increasingly extensive and complex. The number of shipments that have to be transported from A to B grows steadily. On the other hand, lead times and availability periods are getting shorter. Under these conditions, shortages occur increasingly, goods are stored incorrectly or are lost. More and more regulations also require proof of the position of certain materials.
Resulting liability risks arise at various points in the supply chain. Goods movements in warehouses and in large transshipment halls are particularly affected.
In the event of damaged or missing shipments in the hall, storage or transport service providers are usually the ones to bear the loss if there is no reliable evidence or the goods simply can no longer be found. Options for the indoor positioning of operating or production equipment or other moving objects are therefore increasingly becoming key functions in applications for logistical environments.
Intelligent linking of data from different sources
Location+, our Plus+ function for indoor positioning, records location data (coordinates), which are merged with the other shipment information (video and scan data) and clearly displayed in CargoVIS. With the combination of all this data, shipment research can be considerably accelerated and simplified.
Our solution integrates optimally into the work processes in the hall and automatically generates the necessary proof without occupying a lot of time and personnel and without interrupting processes. Knowledge of loading times or areas in which the missing goods were stored is not necessary for a targeted start of your research. The research is started using a shipment or package number, and there is no need to search for the goods in the hall.
Location+ brings structure and more transparency into your hall and can be used reliably to locate hand scanners as well as means of transport. The position of the scans is extremely precise with an accuracy of up to +/- 50 cm.
Whether heat mapping, collision avoidance or the optimisation of routes and utilisation of your industrial trucks or driverless transport systems, our Plus+ function gives you access to valuable information for organisation and safety in your hall. At the same time, you can use the indoor positioning to reliably identify critical points for liability transfers and secure clear evidence to strengthen your position in the event of damage or loss.
The location data combined with the scan information and video images are visualised in CargoVIS: A red dot in the site plan of your logistics hall and in all images belonging to the time of the scan shows the exact scanner position or location area. In this way, the positions in the image can be clearly determined even in the case of hidden objects.
With Location+, location data is combined with scan and video data and clearly displayed in CargoVIS. This combination can significantly speed up and simplify shipment research.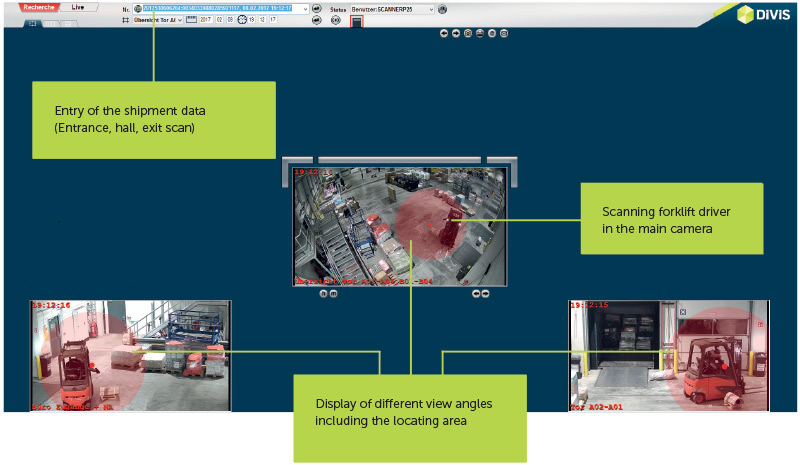 How does high-precision indoor positioning work?
The functionality of localisation with Location+ indoors is comparable to the satellite-controlled GPS positioning outdoors.
In the case of GPS positioning outdoors, people, vehicles or objects are equipped with a GPS receiver that can receive coded radio signals from satellites in Earth's orbit. By comparison of the times and satellite positions, distances and exact positions can be determined with the help of the GPS receiver and transmitted to information systems for visual output.
When using Location+ for positioning indoors, the associated infrastructure devices take on the function of the satellites. These reference devices are installed at various positions inside the logistics hall and supplied with voltage via PoE (Power over Ethernet). The dimensions and weight of the devices are comparable to those of an industrial WLAN access point.
When locating in a hall, information is exchanged on the positions using encrypted signals. In addition to hall scanners, the role of GPS receivers can also be taken over by mobile terminals or freely mountable transponders.
While goods pass through the hall, the barcode on the shipment is scanned at different points and different processing steps. The scan data is collected in the shipping system and automatically linked in the CargoVIS database with the positioning data and the recorded video data for this shipment. This creates a movement path of information for each shipment, with the help of which the goods can be tracked in the hall in a targeted and precise manner – just by entering the shipment or package number.
For each shipment, a movement path is created from information, with the help of which the goods can be tracked in the hall precisely – by entering the shipment or package number – in the hall through scanning times.

Straightforward integration into your processes
Location+ is an automated solution for display of the scan image and can be integrated without disruptive double scans. With the double-scan method, the employee must first scan a barcode in the corresponding hall section or enter a relation in his scanner. In this way, he links the respective camera in this part of the hall to his handheld scanner. Then he scans the consignments.
With Location+ this additional step is not necessary. Your processes, no matter how complex or flexible, remain completely unaffected and the connection between cameras and scan event is established automatically.
Location+ is far more advanced than many other measurement methods
Signal reflections, e.g. of metal walls or consignments are removed through calculation in Location+. This offers maximum flexibility and enables you to work with your previous scanner technology without obstacles and restrictions, even under unfavorable conditions.
Location+ has been tried and tested in practice by numerous DIVIS customers, such as Schmidt-Gevelsberg, Amm Spedition, Transland and Petersen Mordhorst.
Overview of the advantages of combining CargoVIS and indoor positioning with Location+:
Quick start of research, knowledge of time/ date or area not necessary

Binding goods assignment through visual representation of the scanned goods

Easy orientation in the camera images through visualisation of the scan area

Scanning processes can also be identified in the case of hidden objects in the camera images

Easy handling in the daily workflow (no double scan necessary)

Increased data protection and faster search through targeted entry via scanning times

Efficient, uniform data utilisation/interpretation thanks to intelligent data linking from different subsystems (scan data, video data, location data)
Other advantages of indoor positioning with Location+
In combination with our software module Profile+, the indoor positioning system Location+ offers additional added value for your logistics processes. For example, the tool opens up options for route optimization, checking availability or comparing actual values with process target values.