How one vision and the aspiration to make a difference created video management for logistics

For 20 years, the video solutions by Deutsche Industrie Video System GmbH (DIVIS) from Bordesholm have been helping customers to make their logistics services even more effective and customer-friendly.
Our success story shows that the wishes of our customers are most important to us and will also shape the future of DIVIS.
Thanks to the innovative spirit of our outstanding team, DIVIS is now among the market leaders for specialised IT logistics solutions.
Today, DIVIS applications offer pioneering functionality and are more versatile, intuitive and easy to use than ever before.
It all started in Neumünster in 1976. Correct, that's not just two, but more than four decades ago. Find out in this article, why DIVIS is nonetheless celebrating its 20th anniversary in April of 2022.
20 years of DIVIS at a glance

Videotronic founds DIVIS for a solo start in the field of conventional video surveillance
In 1976, founded by the video hardware distributor Videotronic, DIVIS launches its activities in the project business. The start-up initially sets up classic cross-sector video surveillance systems for small and larger companies under the name Deutsche Video System GmbH.

First pivotal steps towards the focus on video management for logistics
From 1994 onwards, industry contacts in logistics gradually direct the course towards the specialisation in logistics service providers, with which DIVIS is still successful today. In the same year, Thomas Kroll is appointed Managing Director. DIVIS recognises that a much greater benefit could be achieved for logistics operations through extensions in the functionality of conventional video surveillance. However, this type of solution with the suitable features is in short supply on the market at the time.
Building on the know-how of the past years and with great enthusiasm, DIVIS develops the first digital video recording and research system for parcel tracking for a large parcel service provider. The project initiates the line-up as a provider of intelligent video system solutions for large-scale industrial applications. The company name is eventually adapted accordingly. In the following years, the DIVIS solutions become more comprehensive and the customers larger.

The real birth year of DIVIS, a lot of changes and a vision
2002 becomes a corporate milestone and a key year for the company and its product range. From today's perspective, it is considered the actual birth year of DIVIS.
As part of a management buy-out, the previous managing director Thomas Kroll takes over 100% of the company shares. The company's headquarters are relocated to Bordesholm, initially into a small office on Bahnhofstraße.
In recent years, Thomas Kroll has cultivated a vivid exchange with customers and thoroughly analysed the pain points of the logistical processes in cross docks and HUBs along the way.
"The volume of goods in shipping was already increasing steadily at that time and with it the problems, such as delayed, damaged or missing goods", he recalls and continues: "We realised: The problems in logistics were so specific that mere video surveillance systems did not have the necessary capabilities to counter these issues."
The vision of a solution is taking more and more practical shape. A system of cameras and intelligent software with functions specifically for logistics needs, flexibly adaptable to different conditions on site and intuitively operable, quick results to actually bring the desired relief in the hectic daily loading routine - this is what a practical video management application for logistics companies should look like. Corresponding out-of-the-box solutions still do not exist at that time.
Consequentially the vision develops into a product. From the first approaches of the software solution for parcel tracking initially developed for a single customer, now emerges a market-ready, individually configurable complete solution for parcel service providers - ParcelVIS.
Only a few months later, the release of the video management system solution for general cargo forwarders, CargoVIS, follows.
From now on, the development focus lies exclusively on logistics. The company not only takes care of the software, but also accompanies its customers during the planning phase, takes care of installation and commissioning, as well as training and offers service contracts for ongoing support.
With this new orientation, DIVIS succeeds in winning large and well-known companies as customers, among the first: Ferrero.
From the first approaches of the software solution for parcel tracking initially developed for a single customer, now emerges a market-ready, individually configurable complete solution for parcel service providers - ParcelVIS.

National goes Europe-wide
Within Germany, the number of customers is increasing, and further growth follows in those tracks. The logistics market is expanding during these years. Many of DIVIS' contractual partners are expanding into other European countries with branches or through entering into cooperation with other companies there. DIVIS also expands with its satisfied customers. In 2004, a bundled order of 10 installations introduces the solutions to France for the first time.
Today, the all-in-one systems of DIVIS are used in 22 countries.
Today, the all-in-one systems of DIVIS are used in 22 countries.

Release of a new video management generation with CargoVIS II
2007 marks the release of the CargoVIS generation that DIVIS customers know and appreciate to this day. Some key functions and unique selling points, such as the patented area navigation, contribute significantly to the user-friendliness of this product generation.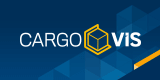 More room for creative solutions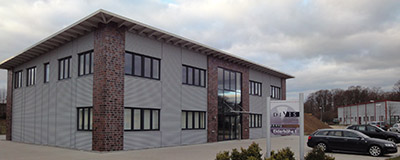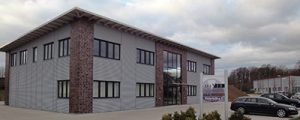 The head office on Bahnhofstraße has become really tight by now. The children's shop adjacent to the previous one-room office has given up its premises in the meantime and DIVIS can take them over. But even that does no longer provide sufficient space for the steadily increasing number of staff.
In 2008, the course is set for more growth and expansion:
DIVIS moves into the building at Eiderhöhe 1, known today as the official company headquarters.
This commitment is co-financed by the European Union from the European Regional Development Fund (ERDF).
Introduction of the innovative recording method Motion+ revolutionises the research process
In 2011, a unique recording technique developed by DIVIS, called Motion+, is integrated into the basic version of the software. To this day, this development constitutes another unique selling point that lifts the user-friendliness and research speed of the application to a new level. With the help of area-precise image display, visually searching through long video sequences on the screen is finally a thing of the past. Thanks to the new method, the required image data can be provided by the software accurately and without delay.
With the help of area-precise image display, visually searching through long video sequences on the screen is finally a thing of the past.

Release of the new ParcelVIS generation and another upgrade of the company headquarters
In 2012 the new ParcelVIS generation is released as well. Both products, CargoVIS and ParcelVIS, are continuously developed further and adapted to existing and new needs in logistics. In the course of this, new functions and additional modular software add-ons, the so-called Plus+ functions, are constantly being created. With these, the basic system can be expanded by many useful functions (e.g. volume control of shipments, scanner location, gate control, security functions with thermal imaging cameras or access control) and logistical processes can thus be optimised throughout the entire company. Applications for quick damage documentation, returns management and statistics functions round off the product range today.
Over time, the team continues to expand, and after moving into its own company building just four years ago, DIVIS' business develops so rapidly that the space becomes too small once again. For this reason, DIVIS expands the company headquarters on the Eiderhöhe in 2012 and 2013 by constructing an additional building section with sufficient space.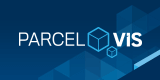 New option for indoor positioning, tagless Bluetooth® Low Energy (LE)
DIVIS' line-up as a full-service provider includes not only the software but also the camera equipment for the system installations, which are realised with high-quality and reliable hardware from renowned partners.
Only recently, DIVIS also added tagless Bluetooth LE to its portfolio, a new technology for indoor positioning, which eliminates the need to install additional location tags on the scanners. The tags are replaced by a Bluetooth LE app on the scanners, also developed by DIVIS.

Today, DIVIS' all-in-one systems combine the functionality of different software applications with video cameras and positioning in a single system for logistics. All components are provided from a single source.
"Close cooperation with our customers is at the centre of our work. Their need is our task. Their success is our success. We listen and hear requests, making sure that every further development becomes added value for all users of our software", emphasises Managing Director Thomas Kroll and continues: "After two successful decades of innovation, we at DIVIS feel more motivated than ever to optimise and expand our products even further in the future."
In doing so, DIVIS is also constantly evaluating its internal development processes and testing new ways within the company in order to offer the greatest possible freedom for creative solutions to emerge.
"Today, we proudly look back on over 500 installations throughout Europe. The future of DIVIS will be characterised by further advanced concepts and the continuation of our healthy growth. Currently, we are starting to expand into the Spanish market," reports Thomas Kroll.
Hendrik Reger, who was also appointed to the management board in 2020, adds: "Our team also continues to grow. Right now, more than 80 employees at DIVIS ensure that our customers are consistently served and supported at our well-known high level. We look proudly on the career of DIVIS and thank our existing customers for their trust, which in some cases has already lasted for decades. The DIVIS team looks forward to tackling the developments of the future together with you and all new clients."
"Today, we proudly look back on over 500 installations throughout Europe. The future of DIVIS will be characterised by further advanced concepts and the continuation of our healthy growth. Currently, we are starting to expand into the Spanish market."
Thomas Kroll
Managing Director